2018 Winter Chill
---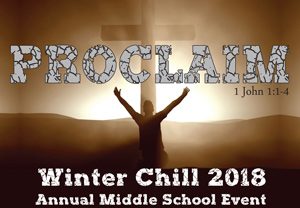 January 27th, 2018 7:00-11:30 PM
Pax Christi Youth Center
All Middle School students are invited to a night of fun, service, prayer, inflatables, food and more! Come hang out with 150-200 other 6, 7, 8th graders from Rochester, St. Charles, Plainview, Dodge Center, Stewartville and other surrounding areas. This year's theme is PROCLAIM. We'll proclaim our faith in God through prayer, in service to others, and by learning to proclaim our faith story in testimony with others.
To Register: fill out the registration form and return it to the Parish Office. The fee is $15 before January 24th and $20 after that or at the door.
Volunteer: High school students and adults are needed to make this event work. Contact Rosemary Byrne if you can help.
Donations needed: We need YOUR help! For our service projects, we are looking for donations of fleece blanket kits (or pre-cut fleece for tie blankets) and cash donations to complete our Sole Hope project we began at this event last year. Please drop off fleece blanket kits to Rosemary Byrne by January 20th. Cash donations can be dropped off at your parish and marked for Sole Hope OR you can make a donation online at https://www.purecharity.com/winter-chill-sole-hope-donations. Thank you!
This event is sponsored by the Greater Rochester Area Catholic Youth Ministers (GRACYM) of which Resurrection is a member.