Catholic Evangelization Outreach – C.E.O.
---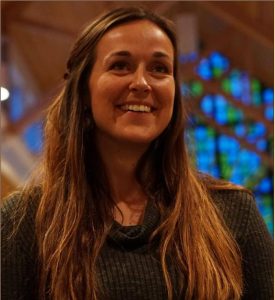 Allyson Harris  – "From Atheist College Athlete to Catholic Missionary"
Playing college basketball and pursuing a pre-med degree, Allyson Harris moved through college with everything she thought would make her happy- God being nowhere in that picture.
In her pursuit of a successful life, happiness, and love, she came to the recognition that it was actually her who was being pursued- by Love Himself. She encountered the Person of Jesus first through a roommate and teammate, then in the beauty of the Church and Her tradition, and finally in the Eucharist. In being found, Allyson finally found her life's calling – to belong fully to Him who alone fulfills, and to make Him known to others.
Allyson is currently in Campus Missionary at University of North Dakota and part of Fellowship of Catholic University Students (FOCUS).
Prayer for Resurrection
Catholic Evangelization Outreach
God our Father, you created us in your image and likeness. Despite our sinfulness, you established a covenant to remind us of your love for us. When the appointed time came, you sent your Son to establish a new covenant built on love, mercy and peace. As followers of Jesus Christ, we have been asked to boldly preach Jesus Christ to the ends of the earth. As the parish of Resurrection, we undertake our Savior's mission in an evangelizing spirit. Send your Holy Spirit upon us to heed the words of St. John Paul the Great and his call to evangelize the culture of the twenty-first century with courage. May we begin in our homes, community and the people we encounter. When we face fear, give us hope. We implore the prayers of our Mother, the Blessed Virgin Mary. She is our protector and guide. We ask this prayer through your Son, our Lord Jesus Christ, who lives and reigns with you and the Holy Spirit, one God for ever and ever. Amen.