Fusion Family Night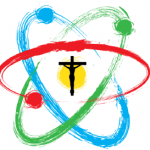 We are "FUSION"– a volunteer run ministry
at the Church of the Resurrection, led by families
for families. Our goal is to be a sustainable
powerful ministry that shows the energy,
passion, and dedication to supporting the faith
journey of families.
Fusion Registration
WHEN: We invite you to join us for a Fusion Family event this November 12th 5:30 – 7pm
WHERE: Church of the Resurrection (Fr. Zenk Hall)
WHO: Bring your family and invite your friends! Childcare will be provided onsite for families by
volunteering teens and Virtus trained adults.
WHAT: Dinner and presentation for adults about the Domestic Church and a discussion about an
opportunity to expand your families' circle of influence through ministry as the Domestic Church.
The webinar comes from Ascension Press and the family ministry opportunity that will be discussed is
"Together for Good." Kids will participate in an advent preparation activity and other kid friendly fun!
HOW: We strongly recommend that you mask at this event, though meal time will be unmasked.
Feel free to join us after the meal portion of the event if you have any concerns. Food will be served by
our team. Masks will be required for school aged children and childcare providers, just as the
schools and faith formation programs do. Thank you for your understanding about our efforts to
make this a safe event open to all.
Categories:
Announcements & Events