Totus Tuus Registration
---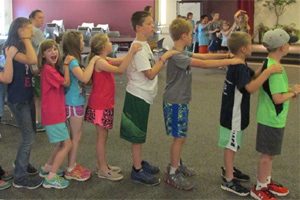 Grades 1-6: June 29th – July 3rd, 9:00am – 2:30pm
Grades 7-12: June 28th – July 2nd, 7:00 – 9:30pm
Registration is open now- fill out the Registration Form and return it to the parish office.
---
Registration Form
---
Totus Tuus  ~  (Latin for "Totally Yours") is a Catholic youth program dedicated to sharing the Gospel and promoting the Catholic faith through catechesis, evangelization, Christian witness, and Eucharistic worship.  The goal of Totus Tuus is to help young people grow in the understanding of, and strengthen their faith in, Jesus Christ.
"I am the way, the truth and the life.  No one can come to the Father except through me" (John 4:16).
The Grade School Program is designed for Catholic children going into 1st through 6th grades. The program strives to:
help students be clear and consistent in their faith
show the children that the humble yet courageous seeking of all believers is to be based upon the Word of God
The Program for Secondary Students, Totus Tuus Primetime, is for Catholic youth going into 7th through 12th grades, and includes instruction, large and small group discussions, quiet meditation, skits, subject related activities, and prayer and games.
The teachers for the Totus Tuus program are college age students, two men (seminarians) and two women.
There are five essential elements to the Totus Tuus program:
Proclamation of the Gospel – to arouse faith.
Explanation – examination of the reasons for our beliefs.
Christian Witness – an experience of Christian living.
Celebration of the Sacraments – especially Holy Eucharist and Reconciliation.
Active Witness of the Missionary Nature of the Catholic Church.