Small Groups
LENTEN BOOK STUDY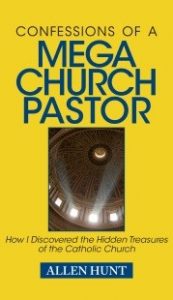 We invite you to participate in a Lenten Small Group Discussion, March 1-April 12.
Groups meet weekly and discuss a designated chapter. The Church will provide book study guides for each participant. These guides can be picked up on the weekend of February 25/26. The study guides provide a framework for your discussion, including an opening and closing prayer. The hope is that every parishioner will invite at least one other person to join them in this discussion. Each parishioner forming a group will determine the best meeting time, day of the week, and location. Meet in homes, restaurants, St. James Coffee, or at Church. Registration for Church groups will take place February 11/12 in the gathering space.
CONFESSIONS OF A MEGA CHURCH PASTOR, Allen Hunt
Based on his powerful book, Allen Hunt shares the insights and details of his 15-year journey into the Catholic Church. In 2007, Allen stepped aside as pastor of a Methodist congregation that served more than 15,000 persons each week. He entered the Catholic Church in 2008. His daily talk radio show is heard by over half a million listeners and is syndicated on 140 stations nationwide.