Liturgy Notes from Joann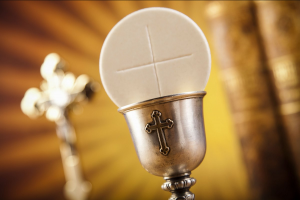 Christ is risen!
The following is a reflection for this Sunday from the book Living Liturgy, published by Liturgical Press in Collegeville, Minnesota.
Being witnesses for one another: We know well that to be disciples means that we are to be witnesses for Christ. Yet we are also called to be witnesses for one another, speaking on behalf of the work that Christ is doing in others. We see how that happened in today's first reading when Barnabas testified to the apostles and gave witness to Saul's own conversion.
In the liturgy, we give a similar kind of witness for one another at significant moments. In the process of conversion to Christ – sponsors, godparents and other members of the assembly give public witness at the RCIA: Rite of Election to the work GOD has done in the catechumen's life. In the Order of Celebrating Matrimony, the assembly stands as witness to the covenantal love GOD has already made with the couple, who now enter that same covenant of love with each other. At Confirmation and Ordination, the candidates are presented to the celebrant by a member of the assembly who testifies to the candidate's readiness for the sacrament. And every time we offer Intercessions at Mass, we are exercising the office of our baptismal Priesthood, giving witness for one another before GOD to the needs of the church, the world, those who suffer and the local community.
By being witnesses for one another, we offer encouragement and hope and we help one another recognize and strengthen the good work GOD continues to do in the world through each one of us. Since it was GOD who first chose us and called us to be one with him in baptism, bearing witness to one another is also bearing witness to Christ.
After reading this reflection, I am reminded of how connected we are to one another as the body of Christ in the world and how important it is to know and pray for each other – to walk with each other as disciples of Christ.
Special congratulations to all of the young men and women who are Confirmed this weekend. May the Holy Spirit fill your hearts and enkindle the fire of GOD'S love within you.
To those who receive Jesus for the first time in Holy Communion – may you learn to hear the voice of Christ in your heart. He is there and he loves you very much.
Christ is risen indeed!
Psalm Refrain for May 6 – 6th Sunday of Easter
(Psalm 98:2)
The Lord has revealed to the nations his saving power. OR Alleluia.
Categories:
Weekly Columns