Operation Hometown Gratitude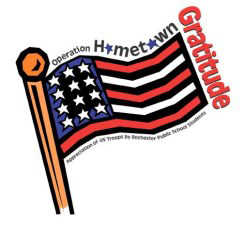 Operation Hometown Gratitude was a great success with 94 boxes packed, $882 collected for mailing, and about seventy people participating on Sunday. We were grateful and excited about the wide range of parish and community involvement including a generous monetary donation and items from the Rochester Exchange Club, home baked cookies from our Bakers Ministry, decorated boxes from our Resurrection Spark group, letters from St. Francis School students and students from Ben Franklin Montessori School as well as pictures and letters from individual adults and children from our parish; donations of an impressive variety of books and magazines and dvd's, an amazing collection of food, toiletries, and socks, as well as miscellaneous fun, recreational and useful items.
We hope that these well-filled boxes not only bring smiles to the faces of our dedicated service men and women but also convey, in some small way, our gratitude for the personal sacrifice they have made for us and make known of the thoughts and continued prayers that go with them daily. Each box also contained a sprinkle of salt blessed by Fr. Ivo Pavic. Special thanks go to Gary and his crew from Mayo HS; Tom, our custodian; Pat, our office manager; our parishioners who volunteered to sort and organize donated items, coordinate the effort as needed, and prep and serve food on Saturday and Sunday; and to ALL of you who participated by showing up to pack or by donating, writing, or sending prayers. It is so heartwarming to see Resurrection come together to make a parish-wide event such as this a success for a cause so close to the hearts of us all. Resurrection—You are the BEST!!!
Categories:
Weekly Columns