Musical Musings from Joy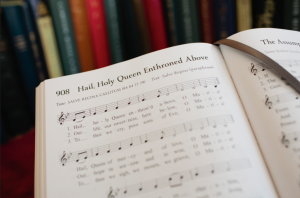 As the school year draws to a close, so does the 2017-2018 Music Ministry. This was the most fulfilling year I could have hoped for, and I hope those of you who are with us regularly got to witness their gifts and talents, too. To say I am proud of and humbled by them is an understatement!
Music Ministry 2017-2018 By the Numbers:
20 –the number of Children's Choir participants at
10am Mass once a month
19 –the number of Folk Group members in this 8pm Mass
come-as-you-can ensemble
13 –the number of Adult Choir members who found a
home at 8:30am Mass
9 – the number of Accompanists who tickled the ivories
8 – the number of Instrumentalists who added depth and
richness to our liturgies
7 – the number of Teen Ensemble participants at 10am
Mass over the year
5 – the number of Cantors who put themselves forward
for Certification
1 – the Music and Choral Director who had the privilege
of leading them on this journey
Please consider joining us in September for the 2018-2019 Music Ministry, including a brand-new choir at the 11:30am Mass! (More details to come.)
In the meantime, do join us for our Open Sing weekends this summer:
June 23rd/24th – July 14th/15th – August 11th-12th – September 8th/9th
Anyone and everyone is invited to come up to the choral area and lend their voices at any Mass these weekends!
A safe and happy summer to all!
Hymnal Scavenger Hunt
How'd you do with last week's Hymnal Scavenger Hunt? It was Holy, Holy, Holy, found in the green hymnal at #448 and the red hymnal at #483.
Here's this week's clue:
As we enter back into Ordinary Time, it's wonderful to think about Creation. This song praises different elements of nature in an energetic way!
Hint: This song may be found in the red hymnal.
Categories:
Weekly Columns