Divine Mercy Sunday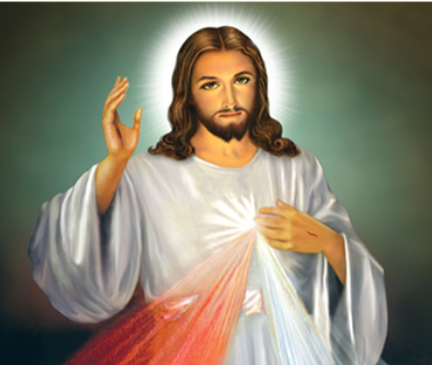 All are Welcome
Sunday, April 24th
Itinerary
Starts at 12:45pm in Fr. Zenk Hall – Video on the life of St. Faustina
At 2:00pm We will move into the Main Church for the following:
Exposition of the Blessed Sacrament
Benediction
Rosary
Chaplet of Divine Mercy
Sacrament of Reconciliation
Ends at 4:00pm
---

Participate in praying the Divine Mercy Chaplet Novena
Read the Diary of St. Faustina
Look upon the image of Divine Mercy
Jesus told St. Faustina that this Feast of Mercy would be a very special day
when "all the divine floodgates through which graces flow are opened".
(Diary 699) Our Lord made a great promise, "I want to grant a complete
pardon to the souls that will go to Confession and receive Holy Communion
on the Feast of My Mercy." (Diary 1109)
We want to encourage everyone to take advantage of this incredible promise
and the additional Plenary Indulgence on this great Feast of Mercy "Divine
Mercy Sunday". We want you to benefit fully from these promises, and we
also want you to notify all of your family and friends about them too and
urge them to join us in prayer!
As a gift to humanity, which sometimes seems bewildered and overwhelmed
by the power of evil, selfishness and fear, the Risen Lord offers his love that
pardons, reconciles and reopens hearts to love. It is a love that converts
hearts and gives peace. How much the world needs to understand and accept
Divine Mercy! Lord, you who reveal the Father's love by your death and
Resurrection, we believe in you and confidently repeat to you today: Jesus, I
trust in you, have mercy upon us and upon the whole world.
(Regina Caeli message of Pope John Paul II, April 3, 2005)
The Image of The Divine Mercy, which Our Lord requested to be solemnly
blessed and venerated on this day, will be on display in our church.
Pope John Paul 11 said that the image portrays the Risen Jesus Christ bringing
Mercy to the whole world. Our Lord said "I want the image to be solemnly
blessed on the first Sunday after Easter, and I want it to be venerated publicly
so that every soul may know about it. I promise that the soul that will
venerate this image will not perish". (Diary 341, 48) Please take the time to
visit with this Image of The Divine Mercy and venerate Jesus.
---
More information about Divine Mercy
For more information about Divine Mercy Indulgence
---
Categories:
Announcements & Events