Music Ministry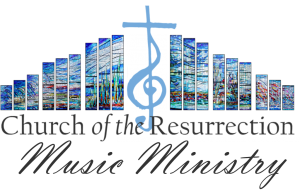 Welcome to Resurrection Music Ministry!
Whether you're a singer, instrumentalist, aspiring conductor, or music lover, we welcome you to join our ever-growing music ministry community! During our Thursday rehearsals, we learn new songs, discuss the meaning of the lyrics, pray as a family of faith, and celebrate our love of God using the music he has blessed us with.
During these times of COVID, we want to be sure we can still share God's love to you through our music. Our music ministry, therefore, is creating music videos for you to listen to and reflect on. We'll continue to pray for you and look forward to the day when we'll all sing together once again!
Want to join our music ministry community? We'd love to welcome you! Simply contact me, and I'll be in touch. I look forward to hearing from you soon.
God Bless,
Michelle Perrier
Director of Music, Coordinator of Liturgy
choirdirector@rescathroch.org
(507) 288-5528 ext. 112
---
Listen to our Christmas Music!